Left to Right: Charli Williams, Tom McFarland, Breann Green, Jim Roscoe, Kristin Troy, Mike Overacker, Ingrid Fulstone, Shane Rosenkrance, Ken Hill, Mike Whitson, Merrill Beyeler, Bob Russell (Photos by Alex Sholes Photography)

In 2005, a handful of local ranchers gathered to discuss the need for an organization dedicated to private lands conservation in central Idaho.  There was no checkbook, no office and no funding, only a vision, passion and a hometown executive director working ten hours per week.  At the time LRLT vowed to be your locally governed, founded and staffed non-profit organization dedicated to voluntary private lands conservation, a lofty goal for a new organization.  In the early days, no one was quite sure how to accomplish this task, only that the working ranches, open spaces and wildlife habitat of Lemhi County needed protected.
The same vision and passion that drove LRLT's visionaries continues to drive us today.  Today we have a checkbook and office of our very own in the heart of downtown Salmon.  Our staff and board are privileged to live, work and play alongside you in the valley we call home.  But most importantly we are accomplishing the goal of our founders, protecting the ranches, open spaces and wildlife habitat of central Idaho.  So who exactly are we?  Learn more about our board and staff below.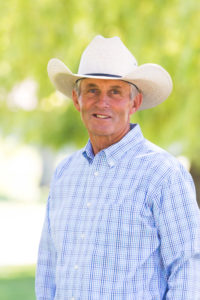 Merrill Beyeler, Chairman
A long time rancher from Leadore, Idaho, Merrill runs Beyeler Ranches, a cow-calf operation along with his wife,  Sharal, and their three sons and their families.  Dedicated to improving the vitality of Leadore and other rural  communities, Merrill has served as the boys' varsity basketball coach at Leadore High School and is an active  member of the Central Idaho Rangelands Network
Bob Russell, Vice Chairman
Bob retired in 2006, after 39 years with the Forest Service, as Forest Supervisor on the Dixie National Forest in SW Utah. He and his wife Nancy moved back to Salmon immediately after his retirement, where they had both worked for the Salmon (then Salmon-Challis) National Forest for 15 years. A forester and hydrologist by training, Bob has spent a lifetime in pursuit of the sustainable use of the abundant natural resources of the West. Nancy and Bob also raised, trained and used llamas as low-impact pack animals in Colorado and Idaho for 20 years. Bob has been an active non-profit volunteer in the community of Salmon since 1988.
Ken Hill, Secretary
A Lemhi County resident since 1975, Ken holds a degree from the University of Colorado with dual majors in Economics and Political Science with post graduate work in Business Management and owned and operated the North Fork Store, Café, Motel and RV Park for 32 years before selling the business and moving to Salmon. Today Ken  serves on the Lemhi County Humane Society board of directors and was recently re-elected for another term on the Salmon City Council. He hopes his background and experiences will benefit LRLT and looks forward to assisting in maintaining our area's agricultural lands, restoring our rivers and promoting our native fish and wildlife.
Tom McFarland, Founding Director
A fourth generation rancher and lifelong resident of Lemhi County, Tom  is one of LRLT's founders and an active member in the Central Idaho Rangelands Network, former school board trustee,  planning and zoning commissioner and member of the Bureau of Land Management grazing advisory board, Tom  has also revealed that he holds a degree in civil engineering.  Today he and his wife, Teresa, continue to ranch on  the Carmen Creek, just as Tom's family has done for nearly a century.
Mike Overacker, Founding Director
With nearly forty years of ranching experience, Mike's involvement with LRLT started as a founding member in  2005.  Mike has been an active participant with the Lemhi County Cattle and Horse Growers' Association and spent  three years as the state director for the Idaho Cattle Association.  Along with his wife, Meridee, Mike continues to  ranch and travel throughout the West.
Shane Rosenkrance, Director
A fifth generation rancher, Shane Rosenkrance manages the largest ranch in the Lost River Valley, Mountain Springs Ranch.  Shane lives in Mackay with his wife Mimi and  is actively involved in the 4-H and FFA programs and the Central Idaho Rangelands Network.
Mike Whitson, Director
Growing up working (and fishing) on a small ranch near the mouth of Hayden Creek, Mike learned at an early age that working landscapes can go hand in hand with highly functioning and productive fish and wildlife habitat.  Prior to moving back to Lemhi County in 2013, Mike worked in the private engineering and environmental consulting field on a broad cross-section of project types including mine permitting, environmental remediation, and natural resource management.  Now employed as a hydrologist for the Bureau of Land Management, Mike is an Idaho Registered Professional Geologist and holds a Bachelor of Science in Geology and a Master of Science in Hydrologic Science from Boise State University.  Mike hopes that his broad range of work experience will provide him useful insight and benefit the long-term goals of LRLT.
Ingrid Fulstone, Director
Growing up on her family farm in Nebraska Ingrid grew up with a deep appreciation for agriculture and its rich history and is dedicated to ensuring agriculture opportunities remain available for future generations.  After graduating with a bachelors degree in Rangeland Management, she started her career working for the United States Forest Service as a Rangeland Management Specialist. Throughout her career she worked in South Dakota, Nevada, Eastern California and occasionally in Azrou, Morocco before settling in Lemhi County in 2010 with her husband. Working as a Range Specialist Ingrid still enjoys her occasional work overseas and values the opportunity to raise her family in the Lemhi Valley.
Kristin Troy, Executive Director – ktroy@lemhilandtrust.org
Kristin has served as Executive Director of LRLT since it's inception in 2005 and holds a Bachelor of Arts in Business  Administration with a degree in Management with an Entrepreneurial Emphasis from Boise State University.  Her  duties include implementing land protection projects, fundraising and partnership building.  In addition to her  duties and LRLT, Kristin serves on the Upper Salmon Basin Watershed Program Advisory Board and Technical  Team, the Idaho Coalition of Land Trusts and has advocated and testified in Washington D.C. for land trust issues.  After spending 11 years in the outdoor recreation industry Kristin returned home to Salmon, where she and her husband, Mark, purchased Idaho Adventures, a Salmon based river rafting and fishing business.  Kristin also currently serves on the board of directors from Steele Memorial Medical Center.
Breann Green, Stewardship and Restoration Coordinator – breann@lemhilandtrust.org
Breann has served as LRLT's stewardship and conservation coordinator since 2009 and holds a Bachelor of Science in Environmental Science from the University of Idaho and a Master of  Science in Hydrogeology from the University of Nevada-Reno.  At LRLT, Breann is responsible for monitoring  LRLT's conserved properties,  assisting in the development of new land protection projects and implementing and  managing restoration and other projects on conserved properties.  In addition to her work at LRLT, Breann runs Salmon River Food Packs, a food packing business for private boaters on the Main and Middle Forks of the Salmon River, and River of No Return Wilderness Outfitters, offering rafting trips on the Main Salmon River.
Charli Williams, Outreach Coordinator – charli@lemhilandtrust.org
Charli joined LRLT's staff in 2011 as the outreach coordinator and office manager and holds a Bachelor of Science in Agricultural Science, Communications and Leadership  from the University of Idaho.  The seventh generation born in to a southern Utah ranching family, Charli jumped at  the chance to return to the valley her family has called home since 1999 and join the staff of an organization  dedicated to preserving the livelihood, heritage and open spaces important to ranch families like her own.  While her job description is continuously evolving, Charli's main duties include outreach and financial management.  Currently Charli sits on the Salmon High School Agricultural Education Advisory Board, serves as a leader with the Lemhi County 4-H program and is secretary of the Lemhi County Cattlewomen.
Jim Roscoe, Land Protection Coordinator – jroscoe@lemhilandtrust.org
Joining LRLT's staff as Land Protection Coordinator in 2015, Jim comes to Lemhi County from Dillon, Montana.  Prior to joining LRLT, Jim was BLM wildlife biologist for over 30 years, and also working as a Land Steward with Montana Land Reliance, Community Garden Manager for University of Montana Western, and private wildlife consultant. He and his wife, Louise, also operate L&J Concessions and Catering, and partner with their son in a custom haying business. Jim has a B.S. degree in wildlife management and M.S. degree in fishery biology, both from Colorado State University. At LRLT, Jim will be coordinating the development of conservation easements and other projects, and working with private landowners and all our various partners to make these conservation efforts productive and effective.